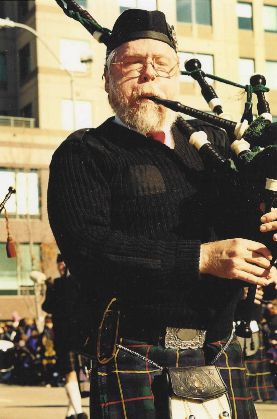 Bruce Wright has played bagpipes for many high-profile events in central North Carolina, including the opening ceremonies for the Coca-Cola 600 at Charlotte Motor Speedway, graduation services at the University of North Carolina, the opening of the 5-star Umstead Hotel in Cary, the annual Children's Christmas Eve service at Duke University Chapel in Durham, the annual "12 Days of Christmas" Scottish dinner at the Carolina Inn in Chapel Hill, and many other events such as Burns suppers, charity events, church services, St. Patrick's Day celebrations, golf tournaments, country club dinners, private parties, and business functions, as well as weddings and funerals.
He has been playing the pipes for over 25 years and has studied piping under several of the most prominent piping instructors in North America, including Sandy Jones (former Pipe Major of the US Air Force Pipe Band and former Director of Piping at the Citadel in Charleston, SC), Colin MacLellan (Winner of the Gold Medal and the Clasp, two of piping's highest awards), and Ed Neigh (Former Pipe Major of the Grade 1 Guelph Pipe Band from Ontario, Canada). Bruce was the Pipe Major (Director) of the City of Oaks Pipe Band in Raleigh for over 10 years, and is currently the piping instructor for the North Carolina State University Pipes and Drums Grade 4 band. He currently plays with the NCSU Pipes and Drums Grade 3 (upper-level) band.
He is available for weddings, funerals, private parties, and all other events that would be enhanced by the pipes.
Some of the popular pipe tunes for weddings include Mairi's Wedding, Murdo's Wedding, Rab's Wedding, Highland Wedding, Highland Cathedral, or many others of your choice. If you have anything specific in mind, or just want more ideas, please ask.
For funerals, frequent traditional selections are Amazing Grace, Shall We Gather at the River, Just As I Am, Abide With Me, Going Home, Flowers of the Forest, Lochaber No More, Oft in the Stilly Night, and more. Many (though not all) popular hymns can be played on the pipes, so if you or the deceased have a favorite, just ask.
For parties and special occasions, there are many possibilities, including an almost inexhaustible number of bagpipe marches and dances.
And of course, for any and all of the above, the ever-popular favorite, Amazing Grace.
For occasions for which you want more than one piper (or a whole band), please look at the web page for the N. C. State University Pipes and Drums. With sufficient advance notice, several pipers or even the whole band may be available for your event - please ask! We are also often able to provide one or more dancers.
You don't need to be Scottish or Irish to enjoy the music of the pipes!